EMR Gimmicks!
---
Medisoft Products
---
Medisoft Upgrade
---
Medisoft Reports
---
Medisoft Clinical
---
EMR Demo Request
---
Electronic Statements
---
The McKesson Practice Partner Electronic Medical Records (EMR), with 15 years of customer feedback built in, is now Medisoft Clinical! It has been integrated with your Medisoft Practice Management (P.M.) (V15 or higher) for a seamless, efficient Medical Practice/Patient Care Management.

This Medisoft Clinical software package is the only EMR option that is McKesson Tested to be fully integrated: Medisoft P.M. transfers Patient demographics, appointments to EMR and EMR transfers CPT and DX data from the doctor's note back into Medisoft P.M. for billing review, and efficient claim submission. This dual interface is a must in order to achieve an efficient practice operation, and it may be required soon for higher insurance reimbursement.

Are you too attached to your paper charts? You will still have a picture of them (see below) inside your Medisoft Clinical EMR!! But now, you can review the entire patient history with one mouse click, check lab data, vital signs, drug interaction, progress notes, etc., with just a few clicks.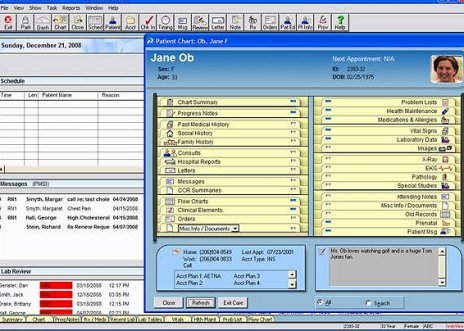 For Instance, Medisoft Clinical EMR contains separate categories for all components typically found in chart, including notes, medication lists, problem lists, past medical history, health maintenance status, images, full laboratory, radiology, OBGYN Logs, Immunization Schedules, EKG and pathology reports, discharge summaries, PT progress note schedules, and user defined categories. And unlike other EMR's, the only thing you need to do to get a complete chart is enter a progress note (which can be entered by dictation, keyboard, or pen phased system).
---
The Medisoft Clinical EMR is now priced consistent with our small to medium medical practice clients and their available budget in mind! Please call us for current promotions!
---
Contact us: Toll Free: (888)987-9335 Local Direct: (631)941-1014 (718)841-7229
You may also send an Medisoft EMR Inquiry for a FREE Medisoft Clinical EMR Online Demonstration