The Medisoft Clinical is an integrated medical practice management, medical billing and electronic medical charting software (EMR) using the Top Industry and Certified McKesson Practice Partner Electronic Medical Records (EMR) software. This Medisoft Clinical software package is designed with the user in mind, it relies on a user-friendly interface with powerful features to improve documentation quality and increase productivity in a medical practice.

Medisoft Clinical - Practice Partner Patient Records provides a host of innovative tools to improve both office and clinical efficiency, while helping to improve quality of care. Patient Records allows practices to replace their paper charts, with a comprehensive feature set utilized nationwide by medical offices of all sizes and specialties.

Since its introduction in 1987, Practice Partner Patient Records has focused on what we know best - outpatient medical clinics and small to medium provider practices. Refined by over a decade of feedback from active users across the country, Practice Partner Electronic Medical Records (Medisoft Clinical) is designed to automate both the clinical and business sides of the modern medical office. Imagine having this Top Industry electronic medical records software bundled inside your Medisoft Clinical software!

In addition to the comprehensive feature set of Practice Partner Patient Records, Medisoft Clinical has a depth of experience in successfully implementing and supporting a wide variety of sites, from solo practitioners to multi-practice clinics utilizing wide area networks (WAN). McKesson Practice Partner is the only company with more than seventeen years of experience in successfully implementing electronic medical record systems.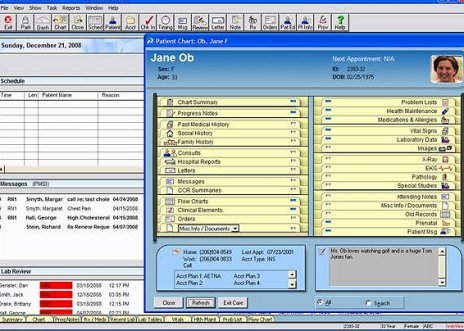 Please enable Active X Controls in your internet browser, to view the Medisoft Clinical EMR Video Demo below:
---
---
And unlike other EMR's, the only thing you need to do to get a complete electronic patient chart is enter a progress note in Medisoft-Clinical (which can be entered by dictation, keyboard, or pen phased system).
Alerts, like New Lab Results, E-Presciption Refill Requests, patient messages, patients waiting in an exam room, are all available in the physician dashboard screen. One click, and the program automatically takes you into the patient chart.
Unlike other EMRS, the progress notes are not just a plain flat text file; Medisoft EMR progress notes are "smart programs" which import patient data like Vital Signs, Prior History and export data like CPT, DX Codes, to the different electronic chart modules.
Unlike other EMRs, the use of these type of progress notes makes the patient encounter a very efficient process! A few clicks, or saying a few words (using Dragon), is all that's required to complete the chart notes.
Physicians may sign the note during the examination, or they may complete it and sign it at a later time.

Please ask us for a free Online Demo