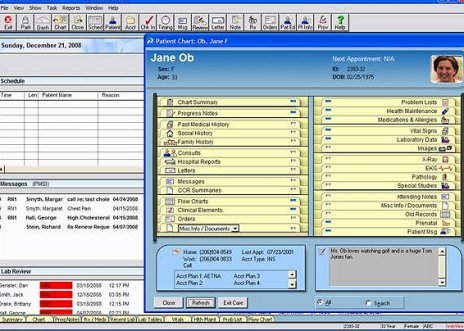 For Instance, Medisoft Clinical EMR contains separate categories for all components typically found in chart, including chart notes, medication lists, problem lists, past medical history, health maintenance status, immunization history, laboratory, radiology, EKG and pathology reports, discharge summaries, OB-GYN Progress Notes, and user defined categories, allowing our software to be suited for almost every medical specialty.
---
If you are looking for a Certified, User Friendly, Easy to Learn and Use EMR, from a Strong & Stable Corporate Partner, then McKesson Medisoft Clinical is for You!
Since its introduction in 1987, Practice Partner Patient Records has focused on what we know best - outpatient medical clinics and small to medium provider practices. Refined by over a decade of feedback from active users across the country, Practice Partner Electronic Medical Records (Medisoft Clinical) is designed to automate both the clinical and business sides of the modern medical office. Imagine having this Top Industry electronic medical records software bundled inside your Medisoft Clinical software!
In addition to the comprehensive feature set of Practice Partner Patient Records, Medisoft Clinical has a depth of experience in successfully implementing and supporting a wide variety of sites, from solo practitioners to multi-practice clinics utilizing wide area networks (WAN). McKesson Practice Partner is the only company with more than seventeen years of experience in successfully implementing electronic medical record systems.